Weddings. It's difficult to start this article proclaiming that wedding season is upon us, as wedding season is always upon us. Regardless of the season, people are always getting married. So if you're related to or friends with someone getting married, buckle up, we're going to crack dress codes like Sherlock Holmes on speed.
Rob Vorster and his groomsmen in Deep Blue Cloud Socks
What you decide to wear to a wedding is determined by the dress code, but there are many other factors to consider. The destination of the wedding plays an important role in deciding what to wear, as this usually determines what the climate is like. For example, if the wedding is in the Midlands, it's safe to say that it'll be cool/cold, regardless of the season. Alternatively spring/summer weddings in Joburg have the possibility of rainfall (and/or hail the size of golfballs), so don't forget your brolly (and/or lifejacket).  
What the bride won't be saying
Generally, the wedding destination is chosen by where the bride or groom grew up/ where their parents live/ where they currently live or close proximity to that/where the most picturesque photographs can be taken. However, nowadays with destination weddings taking place all over, it's important to pack your clothing accordingly and carefully to minimise on space, sneaky airline charges and to avoid wrinkled apparel on the big day.
How we envy you Merlin
When attending a wedding, the three most important things to consider in terms of style are:
Respecting the dress code

Being comfortable

Adhering to the climate
Let's break down what each dress code means for you at a wedding.
White tie
First-off, bear in mind that this is as fancy as it gets. Aim for something in between attending a White House dinner and going to the Oscar's.  The bride and groom are clearly expecting their guests to go all out, and are likely to match that with a big ceremony and a lavish reception (and hopefully an open bar). For men, a full tuxedo coupled with a long black jacket, a white dress shirt, a white vest and a bow tie, gloves and formal black shoes would not be overboard at all.
Black tie
While black tie as a dress code is not as popular nowadays, it's definitely more common than white tie for weddings. Black tie usually indicates that it's an evening event, and therefore a tuxedo is recommended. This can be paired with a black bow tie, a black vest or cummerbund (a sash worn around the waist) and dress shoes. For summer, a white dinner jacket and black tuxedo trousers are also acceptable.
Creative black tie
While still formal, this dress code allows guests a bit of leeway to express themselves. Try a different-coloured tuxedo or a black formal suit with a bow tie, paired with eye-catching socks.
Formal/ black tie optional
Ah the evasive "optional" choice. It may seem like this dress code is just there to trick you, but bear in mind, it means something less formal than black tie is acceptable. A tuxedo won't be overdressed, otherwise a formal dark suit with a white shirt and conservative tie is a good choice.
Semiformal/cocktail attire
With a dress code like this for a wedding, it's best to pay attention to what time the event is taking place; semiformal is a popular dress code for garden weddings. If the wedding is a daytime event, it's best to opt for lighter hues, such as a light-coloured suit- like one made from seersucker- or dress pants and a blazer. For an evening wedding, opt for a darker suit and a less formal tie.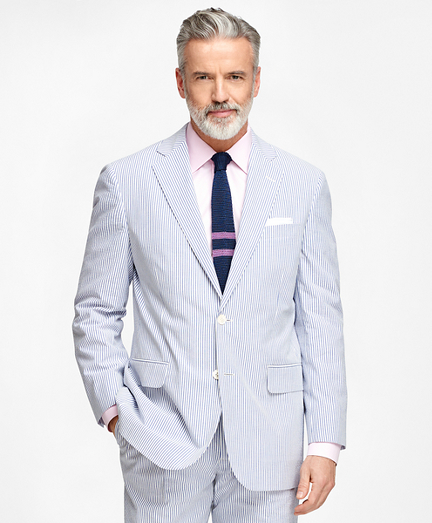 Dressy casual
Some will classify dressy casual as part of the above category, but it's slightly less formal than semiformal/cocktail attire. Dressy casual usually implies chinos and collared button-down shirts for men.
Festive attire
A relatively new addition to the wedding dress code rulebook, festive attire encourages guests to incorporate some originality into the outfit. This dress code is usually associated with weddings closer to the holiday season. Aim for bolder colours and playful accessories, such as a lapel pin and a tie clip paired with a suit, tie and bold socks.  
Casual/ beach formal
With a casual/beach formal dress code, guests can expect the wedding to be outdoors, such as on the beach, and quite laid-back. Remember to dress for the elements- such as the sun, wind and sand- pairing dress pants with a collared button-down shirt and a sports jacket if necessary. Ties are optional. Alternatively, go for a light linen suit, paired with a crisp white shirt.
No dress code
While it's usually mentioned beforehand on the invitation, it has become common for the couple to opt for a "no dress code" wedding. A lack of dress code at a wedding may seem like an unnecessary spanner in the already complicated works when determining what to wear, however it can be treated as an invitation to dress casually, while still looking well-presented. Once again, paying attention to the type of people the couple are (most likely laidback and easy-going if they omit a dress code) and the venue can help determine what to wear. Jeans are not a great option, unless they are dark and well-fitted. A better and safer option is chinos with a casual button-up shirt. Dress shoes or clean sneakers can finish the look. Sweatshirts, sweatpants, hats and shorts are a no-go, regardless of how relaxed the couple may be.
Once you've nailed the dress code guide, all that's left is to kick back in your stylish outfit, relax, be a good guest and have fun.
Don Packett and his groomsmen wearing Nic Harry Black Brick Road Socks
Cover image courtesy of menfash